> Aquatherm Solar Pool Heating Panels
The Original Innovator In Solar Pool Heating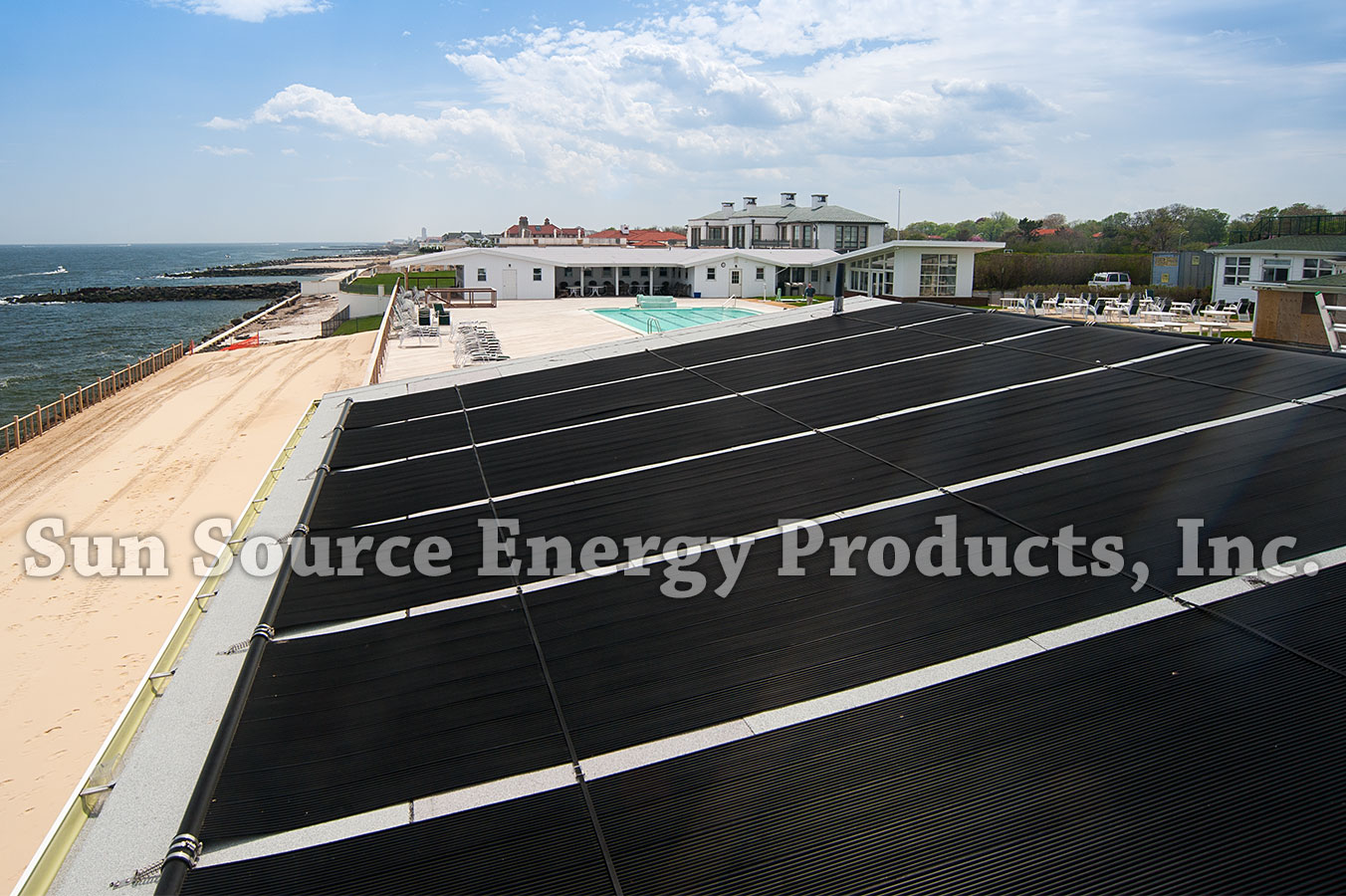 Solar Industries solar pool heating system on Ocean Beach Club, Elberon, NJ
Over 35 years ago, a small group of entrepeneurs had a though; that someday, heating a pool with a conventional fossil-fuel heater would become a luxury we can no longer afford. The group immediately began work on what would become the
Solar Industries Solar Pool Heating System.
With its unique design, the Solar Industries collector received the first patent ever awarded for a "sun tracking tube-and-web polypropyelen solar collector."
Today, Aquatherm Industries is an ISO 9001:2008 registered company, and has grown to become the most trusted name in the solar pool heating industry.
All materials are processed, from pellets to pallets, under one roof in their 50,000 square foot facility in Lakewood, NJ. This approachs allows for total quality control and assures collectors and components of the highest performance and quality.
Solar Industries Collectors
Solar Industries is one of the flagship brands of Aquatherm Industries, and has been in constant production since those humble beginnings in 1977. The design has proven to be very robust, even in the harsh climate of the northeast, with many systems lasting 30+ years in service.
The collector is a proprietary blend of polypropylene, and includes UV inhibitors to prevent cracking and fading over time. The collector is also not affected by pool chemistry, including salt water pools.
Tube and web design yields maximum absorber area, while allowing for thermal expansion/contraction.
Large variety of sizes available, from 4x4 up to 4x20 with many in 2 and 3 foot widths.
All stainless steel mounting hardware, and high pressure rubber hoses for panel interconnect.
10 Year Manufacturer Warranty on panels and mounting hardware.
Part No.
Part Name
Dealer Cost
Retail
Aquatherm Unglazed Solar Pool Panels
02-PC2X06
Aquatherm Solar Industries Pool Panel - 2x6, 1.5" Header
--
$210.75
02-PC2X08
Aquatherm Solar Industries Pool Panel - 2x8, 1.5" Header
--
$268.75
02-PC2X10
Aquatherm Solar Industries Pool Panel - 2x10, 1.5" Header
--
$277.00
02-PC2X12
Aquatherm Solar Industries Pool Panel - 2x12, 1.5" Header
--
$285.00
02-PC2X14
Aquatherm Solar Industries Pool Panel - 2x14, 1.5" Header
--
$348.25
02-PC2X16
Aquatherm Solar Industries Pool Panel - 2x16, 1.5" Header
--
$398.00
02-PC3X06
Aquatherm Solar Industries Pool Panel - 3x6, 1.5" Header
--
$316.00
02-PC3X08
Aquatherm Solar Industries Pool Panel - 3x8, 1.5" Header
--
$403.00
02-PC3X10
Aquatherm Solar Industries Pool Panel - 3x10, 1.5" Header
--
$415.50
02-PC3X12
Aquatherm Solar Industries Pool Panel - 3x12, 1.5" Header
--
$428.25
02-PC3X14
Aquatherm Solar Industries Pool Panel - 3x14, 1.5" Header
--
$522.25
02-PC3X16
Aquatherm Solar Industries Pool Panel - 3x16, 1.5" Header
--
$597.00
02-PC4X04
Aquatherm Solar Industries Pool Panel - 4x4, 1.5" Header
--
$268.75
02-PC4X06
Aquatherm Solar Industries Pool Panel - 4x6, 1.5" Header
--
$403.00
02-PC4X08
Aquatherm Solar Industries Pool Panel - 4x8, 1.5" Header
--
$488.25
02-PC4X10
Aquatherm Solar Industries Pool Panel - 4x10, 1.5" Header
--
$503.50
02-PC4X12
Aquatherm Solar Industries Pool Panel - 4x12, 1.5" Header
--
$519.00
02-PC4X14
Aquatherm Solar Industries Pool Panel - 4x14, 1.5" Header
--
$666.25
02-PC4X16
Aquatherm Solar Industries Pool Panel - 4x16, 1.5" Header
--
$761.25
Aquatherm Panel Connection Kits & Hardware
09-0010
Aquatherm Coated Stainless Steel Hold Down Strap
--
$0.99
09-KIT150
Aquatherm Panel Install Kit, 1.5"
--
$55.25
09-KIT200
Aquatherm Panel Install Kit, 2"
--
$64.68
09-SYS150
Aquatherm System Kit, 1.5"
--
$150.42
09-SYS200
Aquatherm System Kit, 2"
--
$158.01