> SunEarth Flat Plate Solar Panels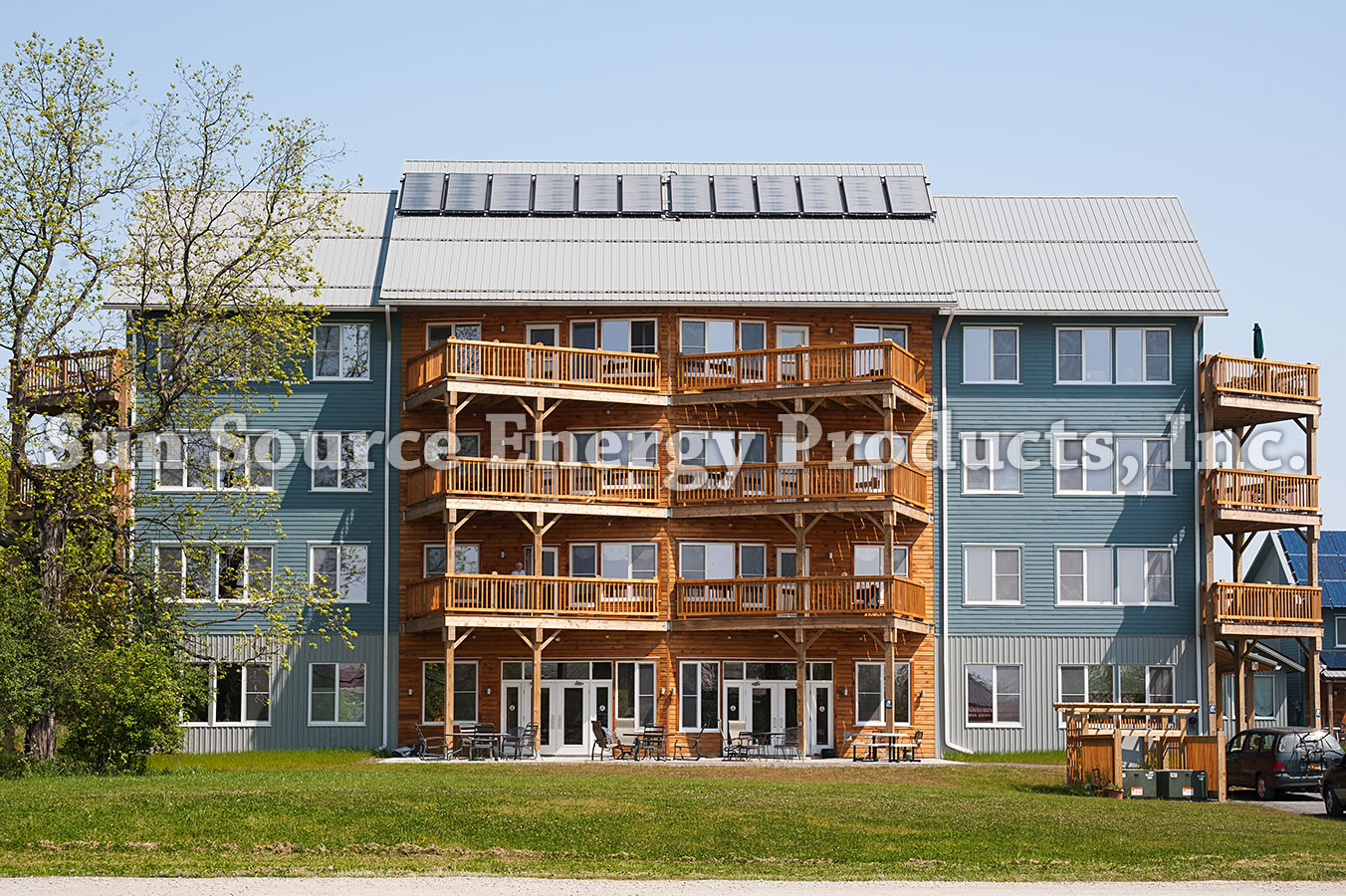 12 SunEarth TRB-32 Collectors at the Ithaca Ecovillage, Ithaca, NY
SunEarth Inc., established in California in 1978, manufactures industry standard solar water heating collectors and systems for residential and commercial applications.
Each SunEarth product is carefully engineered for a world market that demands simple, durable, and reliable solar water heating components and integrated systems.
SunEarth solar collectors are manufactured for a thirty-year design life. SunEarth products require little or no maintenance and are backed by a ten year warranty.
SunEarth Inc. is the largest manufacturer of solar thermal flat plate collectors in the United States. They also manufacture the highest performing collector, the ThermoRay.
Empire & ThermoRay Solar Collectors
Sun Source Energy Products is proud to carry the SunEarth Empire & ThermoRay series of flat plate collectors. These products provide 3 different levels of efficiency in a sleek, low profile black anodized aluminum frame. All collectors are glazed with low-e tempered glass, and insulated with both insulation board and fiberglass to provide the highest performance levels in the industry.
EP Series (Selective Paint) - The most cost effective collector. All copper absorber and copper riser tubes, coated with a low-e black paint. This collector is very popular in the south and mid-Atlantic, and it's low price point provides a great ROI to the customer.
EC Series (Black Chrome) - The long time popular high-efficiency choice. All copper absorber and copper risers, coated with black chrome. SunEarth discontinued this collector in 2020 due to availability issues with the coating, and as of 2022 we have no more in stock. The ThermoRay (TRB) series is the replacement collector.
TRB Series (Blue Sputter) - The "ThermoRay" is the highest efficiency collector on the market. Aluminum absorber plate and copper risers. This collector provides extremely high performance and is the goto choice for high demand systems in Northern climates.
Availability And Delivery
We keep a generous stock in our New Jersey warehouse and can often arrange delivery to you very quickly. If and when possible, Sun Source Energy Products will personally deliver the collectors so the material is ready for you on time and without damage.
Please see below for our very competitive pricing on SunEarth solar thermal collectors.
Part No.
Part Name
Dealer Cost
MSRP
SunEarth Flat Plate Solar Panels
01-SEEP21
SunEarth Collector, Empire EP-21
--
$832.15
01-SEEP24
SunEarth Collector, Empire EP-24
--
$959.65
01-SEEP32
SunEarth Collector, Empire EP-32
--
$1,168.75
01-SEEP40
SunEarth Collector, Empire EP-40
--
$1,540.63
01-SETR26
SunEarth Collector, ThermoRay TRB-26
--
$1,175.40
01-SETR32
SunEarth Collector, ThermoRay TRB-32
--
$1,261.35
01-SETR40
SunEarth Collector, ThermoRay TRB-40
--
$1,583.55